Vulcanised lifting bags for heavy duty applications.
The lifting capacity of the vulcanised Lifting bags varies between 1 and 67 tons and can have a lifting stroke from 80mm up to 520mm dependable of the Model.
This type of lifting bag is used in several industries. It is ideal for lifting heavy objects and structures like lorries, machines, for adjusting mobile homes when positioning them and many other applications which ask for a big lifting- or pushing force while there is only little space.
Features of the TLB Series:
Vulcanised rubber.
Made of Aramide reinforced Rubber.
Excelent chemical resistance.
Max. working pressure 8 Bar.
Max. lifting height 520 mm.
Max. Lifting force 67 Tons.
Sustainable.
Applications of the TLB Type:
Lifting.
Clamping.
Pressing.
Rescueing and calamities.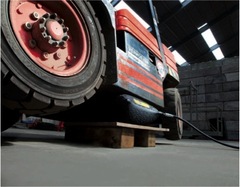 Detailed information regarding dimensions and lifting forces you can find in below table.
Accessories:
art. 421038
Single Control unit
art. 421039
Double Control unit
art.421040
Shut-off valve
art. 421041,42,43
Hoses red, blue and yellow